COME WHAT MAY This one-woman performer fills the stage with characters — and every night the show's different

by J.S. Hall — Bay Windows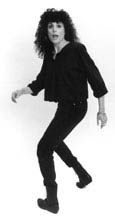 "Bare Essentials", a one-woman performance
by Daena Giardella
How she does it, I'll never know. Actress / dancer / improvisation expert Daena Giardella takes a basic framwork of drama and spontaneously weaves her storyline into and around bare bones. In some ways, her performances are like snowflakes; no two of them are exactly alike, and they're all uniquely beautiful.
Giardella creates much from just the "Bare Essentials." All I can compare her to is Lily Tomlin and her "Search for Signs of Intelligent Life in the Universe." Like Tomlin, Giardella has mastered the art of storytelling to the degree that it (and she) easily transcend age and gender with mesmerizing ability.
Here, she begins as stressed-out temp worker Rita Callibrani, retreating to the sanctity of her studio loft apartment from the "fried day" of Friday. A "recovering serial monogamist," Rita still mourns the end of her toxic, dysfunctional relationship with a woman named Paula. For the next two hours, Giardella takes us on a journey through Rita's psyche, where one witnesses rambling interior dialogues with her Inner Child, and Carlos and Carmela, her emotionally distant father and prim, euphemistic Italian mother.
With subject matters ranging from unfulfilling relationships to single life to dystfunctional family members and other related psychobabble, "Bare Essentials" could easily have been a stand-up comedy routine, but Giardella keeps herself firmly rooted in theatrical traditions. How she's able to form her performance as she goes along remains a mystery to me, but it's fascinating to watch--and difficult to review! I wonder whether I should mention how she ends up in a plastic trash bin, or wrapped in "police crime scene" tape like some chartreuse mummy. Or how conversation segues into the omnipresent O.J. Simpson trial coverage: "Rita, this is Cambridge. It's not P.C. to identify with O.J...." Or how she somehow makes simulated sex with a limp foam dummy seem erotic.
Ninety minutes into "Bare Essentials," Rita transforms into Frannie, Rita's best friend, who is dying of cancer. Giardella expertly switches from Rita's neurotic ramblings to the focused energy of Frannie, who will leave behind children (having buried her beloved husband four years previously) when she dies. Yes, she's terminal--"terminally alive!" She then bursts into a whirling, tumbling, body-thumping dance which both celebrates and affirms life. And it is this dance--like life itself--which is the ultimate form of improv, for just like the show, Giardella will never dance exactly the same way twice.
It's an understatement to say that Daena Giardella is excellent. I hope it's not too pretentious to say that the audience is witnessing true Art, but even if it is, I don't care. As actress Natalija Nogulich says, "acting, at its best and most primal, is about telling stories. I think the human spirit needs to be told stories; they heal, enlighten, and help us understand and connect to each other." And in these respects, Giardella has undeniably succeeded with her all-too-fragilely-human characters.
Alizon Lissance deserves special mention as the keyboard player who instinctively accompanies Giardella with background music and sounds. It takes a special talent to anticipate the unexpected which improv is, and Lissance has it. Uniquely crafted and expertly performed, this is indeed the "Bare Essentials" to great drama.
For more information call 617.924.9596 | 1.877.777.4849 (Outside Massachusetts) or by email: daena@daenagiardella.com. © 2000 Daena Giardella
Home | About | CD | Performances | Teaching | Voiceover | Consulting | Contact