Recently, Daena Giardella was featured in a magazine article entitled "The Art of Being... A deliciously dangerous dance on the edge of the unknown with Daena Giardella." Below, find the exciting and in-depth five page article.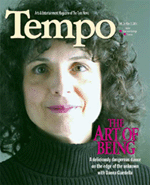 View Daena in the Tempo (pdf)
Note: You must have the Adobe Acrobat Reader installed in order to view this article. Click here to download it for free.
For more information call 617.924.9596 or by email: daena@daenagiardella.com or visit Daena's web site at http://www.daenagiardella.com